British Triathlon – Coach Development – Open Water
This information is to help support the coaches attending the Open Water CPD day at: Active Blu Open Water Venue.
Brockhole Information Centre, Windermere.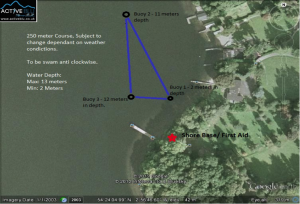 Arial map of swim course.
**Please Note: The course changes dependent on weather conditions.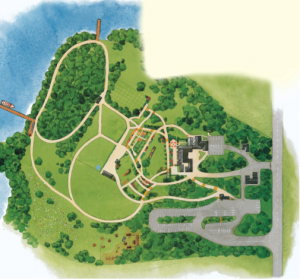 Brockhole Site Map.
Active Blu Useful Information 
 Safety Cover.
The venue requires full safety cover due to the nature of the venue; including shared water access and significant weather changes within the Lakes.
Safety Crew: 1 x Safety Boat and 1 Safety Kayaker for each coach using the ratios 1:12. This means 1 Kayaker to 12 swimmers – As long as they are coached within a group environment.
The Venue has regular water quality tests done by the Environment Agency and will be checked the week before the course and monitored that week – If there are issues with water quality all swimmers and coaches will be informed ASAP and another location or date will be arranged.
Due to changing weather conditions within the Lakes – Flexibility and thought on what and how you will coach the swimmers is essential. Please be prepared to change coaching location and method of delivery.
A full Risk Assessment will be carried out on the day and a dynamic assessment will commence through out the day.
Coaching will be conducted from the Jetty, kayaks or paddle boards so that you can be as close as you want to the athletes and demonstrate as you wish – This will be a personal choice due to your own experience on these crafts. As a coach you do not second as a safety craft or the safety team.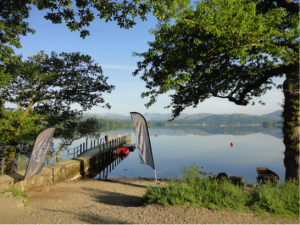 To help you get a picture from where you will be coaching on the day, please see the Jetty from which your sessions will take place.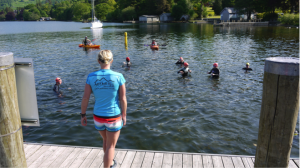 Active Blu Coaching Jetty.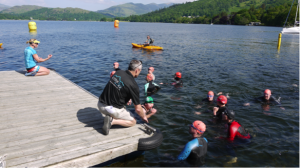 Photo indicating the depth of the water from the Jetty.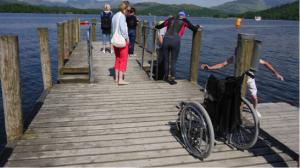 The Venue offers great opportunities to Coach close to the swimmers. Great Access for people in wheel chairs and para athletes, there is full access from Car park to Jetty for people less mobile.
 **Please come prepared that the venue and coaching access points may change on the day.
 General Points:
Please arrive early and get a feel for the venue.
There is a Café on site, but I would suggest you bring a packed lunch in case we are short of time.
There are showers on site, facilities are limited.
Come prepared for all weather conditions.
Water Temp at the end of Aug normally ranges from 12 – 16 degrees – Think about this when planning your sessions.
We will sign all swimmers in and out of the Lake – They will all have a band with an I.D number on it – This correlates to their personal information held by the coaches.
On arrival please head to the main house where I will meet you and we will head up to the training room.
Any problems or questions regarding the venue, please email me at emma@activeblu.co.uk.