Beginners – 5 Weeks to confidence. Adults 18 +
OPEN WATER SWIMMING COURSE. 
Max people: 15
Time: Thursday Evenings 6.45pm – 8.00pm. 
Date: 18th May 2017
Cost: £75 Sign Up here
NEW Venue: Windermere outdoor Adventure Center: Website Here
This NEW 5 week course will give you everything you ever need to develop your confidence from the pool to the open water.
Including hire of wetsuit and Free Swim Hat – Looking to develop your open water skills, drills and training.
These sessions are aimed at those new to open water, but who are confident to swim a pool. It does not matter what speed you are as long as you can swim you are welcome to come join in.
 The transition between pool and open water can be extremely daunting. This course will help you gain the confidence, knowledge and skills you need to enjoy this new environment.

The 5 week course will include:
– Theory and OW adaption. What to expect.
 – Identifying personal needs and dealing with anxiety.
 – Top tips for breathing calmly in the water and making the most of your open water experience.
 – The basics of entering the water, acclimatisation and safe swimming.
 – Looking at how different it can be swimming in the open water verses pool swimming. Swim stroke, style and feel for the water.
 – Look at Open Water skills, such as Sighting – Going as straight as you can in the Open Water.
 – We will look at wetsuits – What suits you, different suits, sizes and buoyancy, what to use for your swim type.
Although we have a basic outline for these sessions, we remain flexible and design the session dependent on our swimmers needs. So when booking please let us know if there is anything particular you would like to focus on.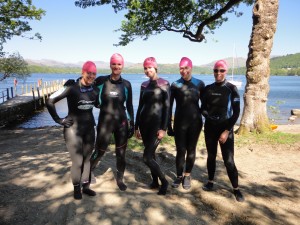 All courses are run by a qualified British Triathlon Open Water Coach.
Wetsuits are compulsory, please supply your own or we have a limited range for hire.
What you will need to bring.
Wetsuit or Active Blu will lend you one.
Own swim wear.
Goggles.
Towel.
Personal Medication.
Required personal Information
 For any additional information please feel free to email me on: emma@activeblu.co.uk